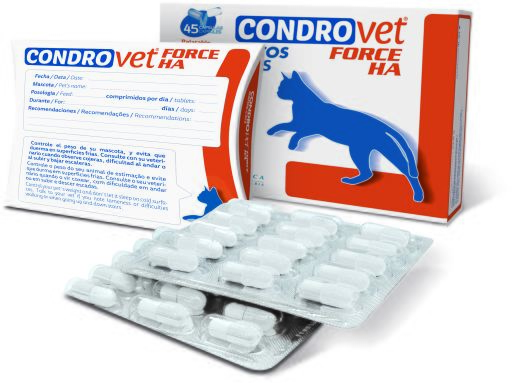 Description
Chondrovet Force HA Cats Joint Chondroprotector Bioiberica
CONDROVET FORCE HA is a veterinary product especially recommended to protect the joints of cats.
How it works:

Chondroitin sulfate and Glucosamine HCl are fundamental components of articular cartilage and help maintain joint functionality and mobility. Mobilee®, thanks to its Hyaluronic Acid content, contributes to the correct maintenance of synovial fluid, essential to recover joint mobility. The native collagen type II b2Cool® helps preserve the endogenous collagen of the joint.
Recommended Use:
In dogs and cats with osteoarthritis and articular cartilage degenerative processes due to: advanced age, high exercise and overweight. After joint surgery or post-traumatic conditions, to ensure a better recovery of the animal.
Suitable for small breed Dog, Cat, Ferret, Rabbit and Rodent.
Administration:
Easy to administer CONDROVET FORCE HA, thanks to the palatability of its flavoring. It can be given before, during or after meals. Administration can be done in 1 SINGLE TAKE PER DAY, following the administration guide below:
Cats:
To facilitate ingestion by the animal, CONDROVET FORCE HA capsules are designed to be opened and the contents emptied onto the animal's food.
If the animal eats dry food, it should be slightly moistened with water so that the powder adheres well.
You can also mix the contents of the capsules with a small amount of wet food to ensure that the animal ingests the entire contents.
-Less than 5 kg 1 capsule
-more than 5 kg 2 capsules
Administer for 6 weeks. To maintain the cat's good condition for long periods of time, the dose can be reduced by half, or administered every other day.
"
Ingredients
Chondrovet Force HA Cats Joint Chondroprotector Bioiberica
Composition:
Glucosamine HCl (99% pure) 120 mg
Chondroitin Sulfate (CS Bioactive) purity 100% 95 mg
Hyaluronic Acid (Mobilee) 14mg
Native collagen type II (b2cool) 1.10 mg
Manganese Sulfate 3 mg
Features
Chondrovet Force HA Cats Joint Chondroprotector Bioiberica
Reference

8430336091861

Weight

300 GR

Brand

Bioiberica

Complements for

Bones and muscles

Units

45 Capsules, 1, 45 Capsules

Small Animal Type

Ferrets

Format

Product Range

Bioiberica Joint Health, , Bioiberica Articular Health

Formato
Customer Reviews
Chondrovet Force HA Cats Joint Chondroprotector Bioiberica