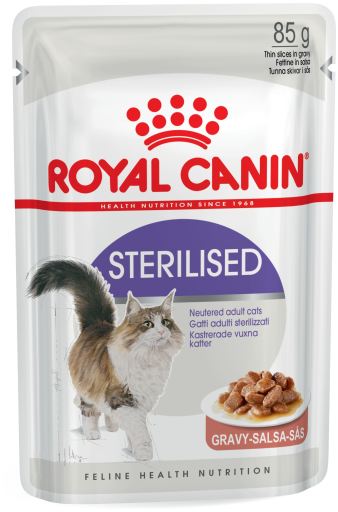 Description
Sterilised Wet Food in Sauce for Sterilized Adult Cats Royal Canin
After sterilization, the nutritional needs of cats are different. Their activity level is often reduced and, consequently, their energy needs are lower.
That is why ROYAL CANIN® Sterilised in sauce has been specifically formulated with the nutritional needs of your neutered adult cat in mind.
ROYAL CANIN® Sterilised in sauce provides an adapted energy content and a moderate level of fat, which together with the appropriate rationing, will help to limit your cat's weight gain.
ROYAL CANIN® Sterilised in sauce is enriched with L-carnitine, which is involved in fat metabolism, while a high protein content will help to maintain muscle mass.
It is always easier to maintain a beneficial diet for your cat if he likes what he eats. That's why ROYAL CANIN® Sterilised in Sauce has been formulated with the nutritional profile that adult cats instinctively prefer to ensure they get all the nutrients they need to maintain overall good health.
ROYAL CANIN® Sterilised in Sauce also provides a balanced mineral content to help maintain the health of the urinary system in adult cats.
To suit the individual preferences of each cat, ROYAL CANIN® Sterilised is also available in wet format as a soft pate, or in dry format, with palatable kibble.
If you wish to provide your cat with a mixed diet, follow our feeding guidelines to ensure that your cat receives the precise amount of both foods to reap the full benefits.
At ROYAL CANIN®, we are committed to providing nutritional solutions tailored to your pet's needs. We subject all our products to a thorough quality control process to ensure the optimal properties of the food, as well as to meet the specific nutritional needs and lifestyle of your cat. This means that when you feed ROYAL CANIN® Sterilised in sauce to your cat, you are providing a complete and balanced diet.
Key benefits/features:
-Weight maintenance
-Healthy urinary system
-Instinctively preferred
Ingredients
Sterilised Wet Food in Sauce for Sterilized Adult Cats Royal Canin
Composition:
Meat and animal by-products, cereals, by-products of vegetable origin, mineral substances, vegetable protein extracts, sugars.

Additives (per kg):
Nutritional additives: Vitamin D3: 90 IU, E1 (Iron): 3 mg, E2 (Iodine): 0.21 mg, E4 (Copper): 1.6 mg, E5 (Manganese): 0.9 mg, E6 (Zinc): 9 mg - Technological additives: Clinoptilolite of sedimentary origin: 0.2 g.

Analytical components: Crude protein: 9% - Crude fat: 2,6% - Crude ash: 1,3% - Crude fiber: 1,8% - Humidity: 81%.
Features
Sterilised Wet Food in Sauce for Sterilized Adult Cats Royal Canin
Reference

9003579311301

Brand

Royal Canin

Weight

85 gr, 510 GR, 1,02 Kg

Units

1, 12

Age

Adult

Flavor

Meat

Special Cares

Sterilized

Format

, Pocuh

Pet

Cats

Made in

France

Product Range

Physiological Royal Canin, Royal Canin FHN Feline Health Nutrition, , , , , Royal Canin Cat Sterilised, Royal Canin Cat Wet Food, Royal Canin Physiological

Manufacturer

Royal Canin,ESP28000439,Royal Canin Ibérica, S.A. PLAZA CARLOS TRIAS BELTRÁN, 4 Madrid 28022 MADRID (ESPAÑA),

Condiciones Nutricionales

Gusto

,

Cuidados Especiales

Formato

,

Produits Français

Format:

,

Nutritional Conditions

0
Customer Reviews
Sterilised Wet Food in Sauce for Sterilized Adult Cats Royal Canin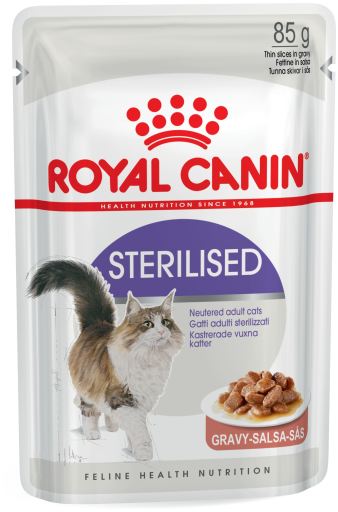 Bom produto. Já tenho comprado outras marcas mas a minha gata só gosta desta.