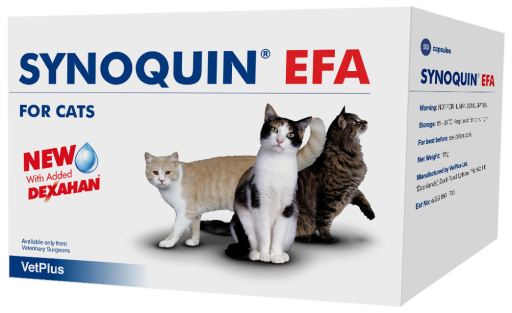 Description
Synoquin Joint Chondroprotector in Cats VetPlus
Synoquin EFA, our leading joint care supplement, contains Dexahan, a unique source of Omega 3 essential fatty acids (EFAs). Omega 3 EFAs are an excellent supplement to add to your pet's diet, as they have many health benefits and are often used to help support joint management. Dexahan is a concentrated source of krill, a tiny crustacean with great nutritional benefit. The EFAs in krill oil are easier for the body to digest and utilize than those from other sources. They come from an environmentally friendly source, are packed with antioxidants and do not cause bad breath in your pet.
Many pet owners are concerned about the long-term effects NSAIDs can have, since most problems related to joint deterioration and injury require prolonged treatments. SYNOQUIN® EFA CAT provides a safe, complementary or alternative option to traditional medication.
ADMINISTRATION
Initial treatment program up to 6 weeks:
- 2 capsules daily (1 in the morning and 1 in the evening).
Long-term maintenance program:
- 1 capsule per day.
The capsule can be opened and the contents mixed well with food or the capsule can be administered whole. Each cat responds differently to supplementation. Generally, however, after the initial treatment program, the dose can be reduced to the maintenance program. If necessary, the dose can be increased by half a capsule every four weeks. Do not exceed the dosage indicated in the initial treatment.
Ingredients
Synoquin Joint Chondroprotector in Cats VetPlus
All our products are manufactured in Lytham, Lancashire to GMP standards. Synoquin EFA Cat contains a combination of:
- Chondroitin sulfate (over 95% pure) - a key nutrient for cartilage and joint fluid health.
- Glucosamine sulfate (over 99% pure) - one of the key building blocks for joint and cartilage fluid
- Dexahan - highly purified krill oil that acts as a rich source of omega-3 fatty acids as well as providing astaxanthin, a potent antioxidant. The krill used in Synoquin EFA Gato is sustainably harvested through a Marine Stewardship Council (MSC) accredited supplier.
- Zinc - important in cartilage and bone metabolism.
- Vitamin C - a water-soluble antioxidant vitamin.
Features
Synoquin Joint Chondroprotector in Cats VetPlus
Reference

5031812523048

Brand

VetPlus

Complements for

Bones and muscles

Age

Adult, Senior

Components

Vitamins and minerals

Format

Units

, ,

Product Range

VetPlus Joint Care, , VetPlus Joint Care

Formato
Customer Reviews
Synoquin Joint Chondroprotector in Cats VetPlus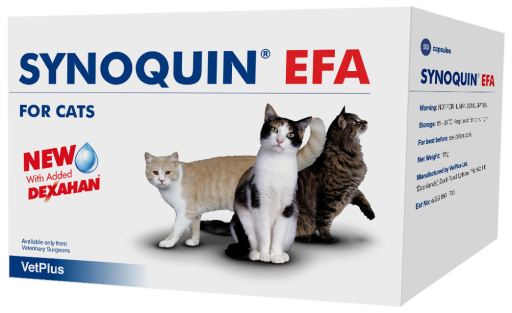 Bom para as articulaes e inflamao.