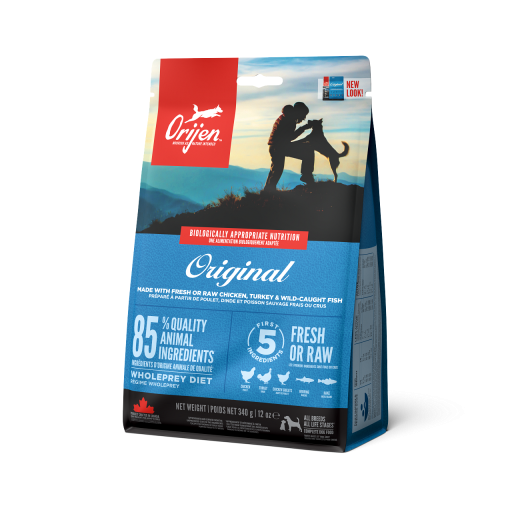 customer_also_bought_ani
Traveness

Traveness
Description
Original Orijen
Orijen Original is a feed for adult dogs. This complete diet is designed to meet the dietary and nutritional needs of your pet of any breed. This preparation provides a good amount of animal meat mixed with the best natural ingredients to offer a balanced diet.
This dog food does not include cereal grains and its ingredients are carefully selected to favor the digestive system of each dog. This diet for dogs is prepared at low temperatures to preserve the tenderness and flavor of their meat, in addition they have added herbs that promote digestion and facilitate the absorption of essential nutrients for the maintenance of their muscles and joints.
Benefits
Protects your pet's digestion
Cares for your pet's joints and muscles
Provides sufficient protein

Features
Does not include cereals
Contains Omega 3
Food for adult dogs
Ingredients
Original Orijen
Fresh chicken meat (13%), fresh beef (7%), fresh corral eggs (7%), fresh chicken liver (6%), whole fresh herring (6%), whole fresh flounder (5% ), fresh turkey liver (5%), fresh chicken collars (4%), fresh chicken heart (4%), fresh turkey heart (4%), chicken (dehydrated, 4%), turkey (dehydrated, 4%), entire mackerel (dehydrated, 4%), whole sardine (dehydrated, 4%), whole herring (dehydrated, 4%), whole red lentils, whole green lentils, whole green peas, lentil fiber, whole chickpeas, whole yellow peas, beans pints whole, whole white beans, herring oil (1%), chicken fat (1%), chicken cartilage (1%), chicken liver (lyophilized), turkey liver (lyophilized), Whole fresh pumpkin, whole fresh butternut pumpkin, whole fresh zucchini, whole fresh pair, fresh carrots, whole fresh delicious apples, whole fresh bartlett pears, fresh curly cabbage, fresh spinach , fresh beet leaves, fresh turnip leaves, brown seaweed, whole red cranberries, whole blue cranberries, whole saskatoon berries, chicory root, turmeric root, milky thistle, ruger root, lavender, marshmallow root, rose hips, Enterococcus faecium. Additives (per kg): Nutrition additives: Zinc Quelato: 100 mg. Protein 38% Grease content 18% Inorganic matter 8% Brunge fiber 5% Humidity 12% Calcium 1.4% Phosphorus 1.1% Omega-6 3.0% Omega-3 1.0% DHA 0.30% EPA 0.20% Glucosamine 14,000 mg / kg Condroitin sulfate 1200 mg / kg Carbohydrates (ELN) 19% The metabolizable energy is 3,900 kcal / kg (470 kcal per cup of 250 ml / 120 g), with calories distributed to favor maximum conditioning: 39% protein, 19% vegetables and fruits and 42% fat.
Features
Original Orijen
Reference

064992182120

Weight

2,5 KG, 2 KG, 6 KG, 7 KG, 13 KG, 13,5 KG, 2,27 KG, 340 GR, 11,4 kg

Brand

Orijen

Units

1

Physical Activity

Average

Nutritional Conditions

Hypoallergenic Products, Without Cereals, Natural

Age

Adult, Senior, Not Specific, Puppy, Junior

Flavor

Chicken, Turkey, Fish, , , , , ,

Dog Size

Small, Medium, Maxi, Giant, Not Specific

Quantity

2,5 Kg, 13 Kg, 0,340 Kg, 2 Kg, 11,4 Kg, 13,5 Kg, 2,27 Kg, 6 Kg, 6,8 Kg, 7 Kg

Made in

Canada
Documents
Customer Reviews
Original Orijen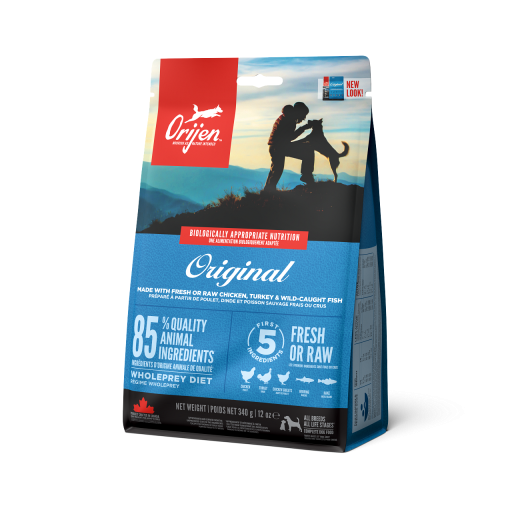 Sim recomendo muita qualidade meus bulldog adoraram
Conservation complique car le paquet ne ferme pas de manire hermtique
Prix attractif, toujours disponible