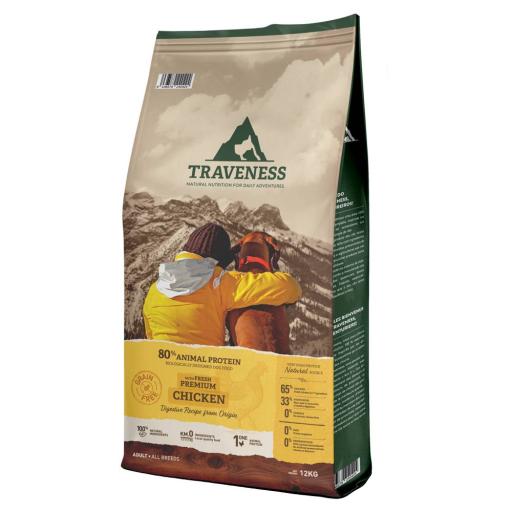 customer_also_bought_ani
Traveness
Description
Natural Food Grain Free Chicken Recipe Traveness
Traveness natural feed is a complete dry food without cereals based on chicken (65%) suitable for all breeds and sizes. It is a product with local ingredients and precisely this Km 0 origin is what makes the product so fresh and also maintains the properties of each ingredient so that its benefits are not lost.
The first and main ingredient is fresh chicken (33%) which, if we add it to the dehydrated chicken, we have 65% of the product, which makes Traveness a complete feed that is biologically adapted to the needs of your dog. This monoproteic product is highly palatable so that while your best friend enjoys his food you have the peace of mind of knowing that you are giving him not only a healthy food but also a food that helps him to have stronger bones and teeth. And if that were not enough, the fact that its ingredients are natural and fresh and do not incorporate cereals will help him to have an optimal digestion, avoiding that this is heavy and can create any discomfort.
BENEFITS
- High palatability
- High digestibility
- Strengthens bones and teeth
- DHA, Omega 3 and Omega 6
CHARACTERISTICS
- High percentage of chicken (65%)
- Fresh chicken as first ingredient
- Fresh ingredients
- 100% natural ingredients
- No artificial coloring, preservatives or flavorings
- GMO free
- With natural antioxidants
- Made in Europe
- Cereal free
- Kibble adapted to all sizes: Thickness: 6,5 mm / Side: 16 mm

INSTRUCTIONS FOR USE: The change of food should be done gradually over 7 days. Give the daily ration, preferably divided into 2 or 3 feedings per day, and always at the same times. The amount of food may vary depending on the dog's activity, breed and environmental conditions. The dog should always be provided with clean and fresh water.
Manufactured in the EU. Batch number, use preferably before, manufacturer's authorization number and net weight are printed on the package. Store in a cool, dry place.
Ingredients
Natural Food Grain Free Chicken Recipe Traveness
COMPOSITION:
Fresh chicken 33%. Dehydrated chicken protein. Dehydrated potato. Chicken oil. Peas. Hydrolyzed chicken liver. Beet pulp. Potato protein. yeast. Linseed. Mineral substances. fish oil Inulin (FOS). Mannan-oligosaccharides. Yucca schidigera.
ANALYTICAL COMPONENTS:
Crude protein 26.20%. Gross fat 15.90%. Gross fiber 3%. Gross ash 8.10%. Calcium 1.40%. Phosphorus 1%.
ADDITIVES:
Nutritional additives: Vitamin A 18000 IU/kg. Vitamin D3 1800 IU/kg. Vitamin E 250 mg/kg. Iron (iron(II) sulfate, monohydrate) 68 mg/kg. Iodine (potassium iodide) 3.20 mg/kg. Copper (copper(II) sulfate, pentahydrate) 9 mg/kg. Manganese (manganous sulfate monohydrate) 6.80 mg/kg. Zinc (zinc oxide) 108 mg/kg. Selenium (sodium selenite) 0.11 mg/kg. L-carnitine 70 mg/kg. Taurine 30 mg/kg.
Technological additives: Antioxidants: Tocopherol extracts from vegetable oils.
Features
Natural Food Grain Free Chicken Recipe Traveness
Reference

8436579240417

Weight

15 Kg, 3 Kg, 12 KG, 12 + 3 Kg, 12+3 Kg

Units

1

Physical Activity

Soft, Average

Nutritional Conditions

Hypoallergenic Products, Without Cereals, Natural, Monoprotective, Gluten Free

Age

Adult, Senior

Flavor

Chicken,

Dog Size

Small, Medium, Maxi, Giant, Not Specific

Brand

Traveness, Traveness, Traveness

Made in

Spain

Producido en

Product Range

Traveness Adult
Customer Reviews
Natural Food Grain Free Chicken Recipe Traveness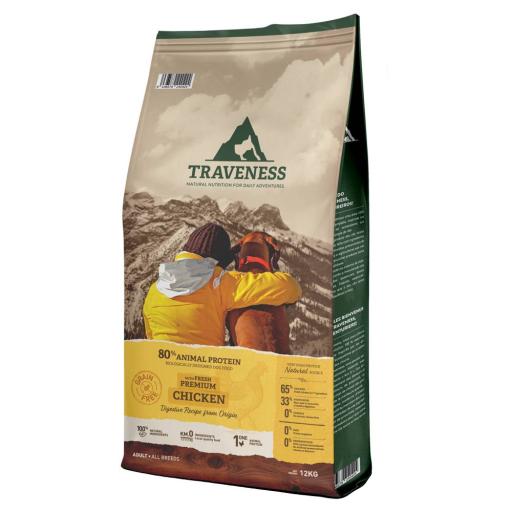 Os meus cães adoram Traveness grain free
muy bien, los perros lo encanta