customer_also_bought_ani
Traveness

Traveness
Description
Urinaid for Urinary Tract Infections in Dogs VetPlus
Urinaid is uniquely formulated to help promote good bladder health in your dog. It contains a unique combination of natural ingredients to help the body cope with poor bladder function.
Urinary tract infections are the number one cause of urinary disorders in dogs. Conditions such as diabetes mellitus, hyperadrenocorticism and urolithiasis are predisposing causes. URINAID® is specifically formulated to aid in the management of these diseases by supporting the immune system of dogs and cats.
ADMINISTRATION
- Over 10kg 1 tablet per day
- Between 10-20kg 1+1/2 tablets per day
- Between 20-30kg 2 tablets per day
- Under 30kg 3 tablets per day
For optimal results URINAID® should be administered before meals.
Ingredients
Urinaid for Urinary Tract Infections in Dogs VetPlus
All our products are manufactured in Lytham, Lancashire to GMP standards. Urinaid contains:
- D-Mannose - a glucose isomer that aids in the maintenance of a sterile urinary tract.
- Cranberry - contains proanthocyanidins (PACs) and has natural antioxidants, with health promoting effects.
- Pomegranate - which has several health benefits, including antioxidant activity.
- Ashwagandha - used in traditional Ayurvedic medicine for its beneficial effects on different parts of the body, including the urinary tract.
Features
Urinaid for Urinary Tract Infections in Dogs VetPlus
Reference

5031812507154

Brand

VetPlus

Complements for

Urinary System

Age

Adult, Senior, Puppy, Junior

Dog Size

Small, Medium, Maxi, Giant

Special Cares

Urinary

Units

60 Tablets, 60 Tablets

Format

Tablets

+10 Kg, -10 Kg

Product Range

VetPlus Internal Medicine, , VetPlus Internal Medicine
Customer Reviews
Urinaid for Urinary Tract Infections in Dogs VetPlus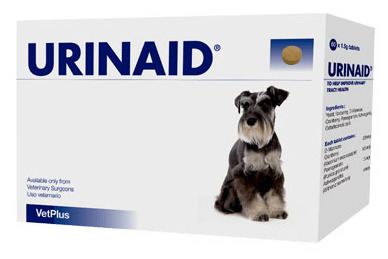 Trs satisfait des comprims. Mon chien les mange avec le plus grand plaisir et les tolre trs bien.
Buen precio en comparacin con la competencia
Prodotto molto efficace la mia malu dopo 2 giorni gi stava meglio ,non perdeva pi gocce di pipi.